What is the iLs Focus System?
The iLs Focus is the core product for implementing the iLs method of brain/body integration.  Including music, movement and cognitive components, the Focus is as much a game, or an exercise, as it is a therapy.  The different versions of the Focus, the Focus Series, give it flexibility, making implementation easier in clinics, schools and home.
How does it work?
As a truly multi-sensory program, the iLs Focus is customizable for all skill levels.  The activities become more challenging as one progresses; and, as one's ability to concentrate and process sensory information improves, confidence and self-regulation also build.  In young people, this staged approach gradually develops a foundation for successful learning and regulated behavior. In adults, the improvement in focus and processing often results in better performance and a happier disposition.
The structure of Focus program varies according to the individual's needs. Often, clinic programs are augmented by home use to attain the suggested frequency of 3-5 times per week.
All Focus Systems Include:
IPOD – loaded with specific music programs
for sensory, concentration, reading, auditory
processing, and performance
AMP – with adjustable air and bone conduction volume
HEADPHONES – custom-fitted with bone conduction capability
INTEGRATION KIT – for visual motor and balance activities
WAISTPACK – adjustable for children and adults
At STAR Center our therapists use iLs for a few key reasons: it can be customized to each individual's needs, the bone conduction delivery is a wonderful vestibular supplement, and the quality of the music is remarkable... We have seen tremendous developmental growth spurts using iLs in combination with OT. iLs combined with OT seems to accelerate or "jump start" many of the children's developmental changes. It also can have a calming effect on some children which makes it easier for our therapists to work with the child. In general, we see accelerated gains by adding iLs to OT… We use it with most of our children in clinic and we often send clients home with an iLs Focus system for continuation of therapy once their intensive short-term program is complete.

author of Sensational Kids, Founder of SPD Foundation
Who uses the iLs Focus System?
The iLs Focus system is a complementary therapy that can be integrated into a broad variety of practices such as:
Speech Therapy
Physical Therapy
ADHD Coaching
Autism Specialties
Psychology / Counseling
Sports Coaching
Training is required before purchasing the Focus system. The core iLs course, Foundations & Implementation, is available either in live sessions or online. Advanced courses and specific applications courses can be viewed on the Training page.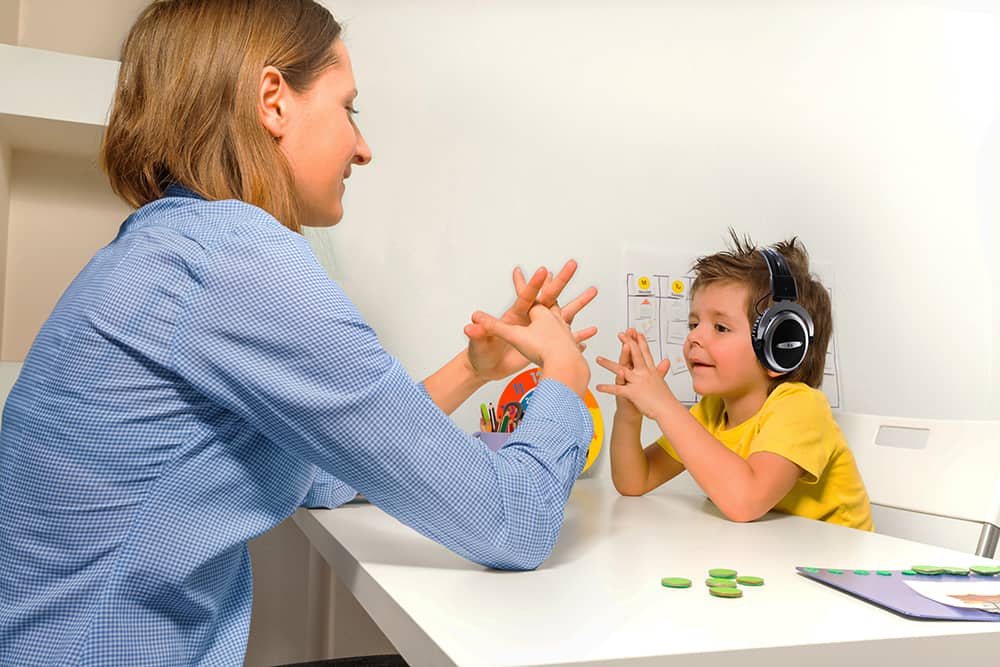 Resources
Hear parents and practitioners discuss how iLs works and the results they've seen.
We are continually exploring and adding interviews and conversations with scientific experts. Past notable interviewees include Dr. Norman Doidge, Dr. Stephen Porges, Drs. Lucy Jane Miller and Sarah Schoen, and Kim Barthel, OTR/L.
Supporting Evidence
iLs is based on the fact that we can change our brain – we can essentially re-wire it through specific and repeated stimulation, a concept known as neuroplasticity. As in building strength and endurance with physical exercise, we are able to build neurological pathways and synaptic activity at any age.
See How iLs Influences Learning for more details.
See the iLs Research page for data and case studies on iLs with learning, attention, reading, auditory processing, autism, head injury and stroke rehab.
FREQUENTLY ASKED QUESTIONS
What is the success rate of children and adults who undertake the Integrated Listening Systems programs?
We have not undertaken the controlled study which would be required to answer this question scientifically. Most, if not all, of iLs clients are doing the iLs program concurrent to other interventions. The cost of a double-blind, controlled study is prohibitive for a small company like iLs; nevertheless, we have ample empirical evidence of iLs' efficacy. The combination of clinical observation and pre- and post-program measurements allow us to say with confidence that a vast majority of our clients achieve "successful" results. (Please visit the Research section of this web site to view research results, and the Feedback section for feedback from therapists and clients.)
What is considered 'success' in this context?
The program is considered successful when the presenting or underlying problem has been resolved or shows significant improvement. In many cases, even when the underlying problem is improved, such as a reading difficulty due to poor auditory processing, some time and training will be required for the client to catch-up to their appropriate age level. In the case of inattention, the child will show increased ability to sustain attention. With irritability and mood changes, the mood shifts are generally resolved and the person is happier. The same can be said for sensory processing, emotional regulation and social skill difficulties.
Are gains temporary or permanent?
Most people who complete a program do not need to repeat it to maintain their gains. Program gains typically "stick" and regression is rare. Having said that, many people can continue to see improvement by doing additional integrated listening therapy. The more severe the difficulty, the more likely one can benefit from a 2nd or 3rd program.
What is the warranty on the equipment? What happens if there is a problem?
There is a one-year warranty on the iLs sound equipment. Extended warranties are available. If there is a problem with the equipment, we will try to work through it over the phone, though some systems may need to be sent into our technical department for repairs or replacement.
Can Practitioners submit private insurance claims for Listening Therapy?
iLs is an educational intervention and does not have insurance codes. However, licensed practitioners may file claims according to standardized professional guidelines for assessment portions of a program, such as the initial and periodic evaluations that are part of a program. An occupational therapist who provides therapy to a client while listening may bill insurance for the occupational therapy portion of the fee. Parents and family members privately fund most listening programs.
What age is appropriate for a iLs program?
We have worked with children as young as 22 months of age. There is no ceiling on the upper end, we have had clients in their 70's and 80's receive great benefit.